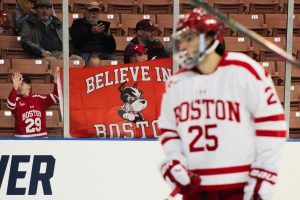 "In reality, everybody should have been kicked out for fighting, according to the rules. The other semifinal was already played. I think if we were the first semifinal, they probably would have let the other semifinal be the national championship game, that's how bad the fight was," Jack Parker said in 2012 of the 1976 bench brawl. 
Terriers, Gophers. 46 Frozen Four appearances, ten national championship titles, and 26 games played, all split directly down the middle (with the exception of two ties). BU head coach Jay Pandolfo got to experience the rivalry first hand when the Terriers clinched their fourth national title in 1995.
"I know the BU-Minnesota rivalry in the '70s was huge, and a lot of those guys played together on the '80 Olympic team. But I don't remember it being a huge rival with us when I played," Pandolfo said. "I was fortunate to be on the winning side of games against them, but I don't remember a huge rivalry. But it's two incredible programs, tradition, and it should be a lot of fun."
While the rivalry might not be what we all remember from Disney's Miracle, college hockey fans are sure in for something special with a matchup between the No.1 Minnesota Golden Gophers (28-9-1) and the No. 5 Boston University Terriers (29-10-0). Let's get into it.
1. Experience vs lack thereof
Bob Motzko's Golden Gophers are searching for their sixth national championship ring and first since 2003, but even with a 20-year championship drought, Minnesota is not new to the Frozen Four. Since their win in '03, the Gophs have made it to the final four five times, including in last year's tournament.
On top of graduating six seniors last year, the Gophers lost both Chaz Lucius and Ben Meyers to professional contracts. While age certainly plays a role in tournament mental preparation, the Gophs return plenty of younger stars including Bryce Brodzinski and Matthew Knies who both had phenomenal personal performances during the FF last year and are surely looking at this year as an attempt at redemption.
"I don't like losing the first game, I can tell you that," Minnesota head coach Bob Motzko told the media last week. "There's so much pageantry going on this week and we have older guys that can help guide that… hopefully there's a lesson from our guys from a year ago –– just how to stay in the moment."
The Terriers on the other hand, are coming in as starry-eyed underdogs. Only 16 current Terriers have played in the NCAA tournament before, back in 2021 in what would be a first-round exit to the St. Cloud State Huskies, mercilessly at the hands of someone named Ethan Brodzinski (yeah… Bryce's brother). 
While BU's last FF appearance was in 2015, the Terriers seemed to be unphased by the glamor of the tournament in Manchester. Granted, it was Manchester, New Hampshire. How glamorous can it be? Joking aside, BU found success through two very different styles of play even with the bright lights on them. 
Also, BU's lack of experience and expectations might take some pressure off in a way that keeps them from performing the way they did in the opening Beanpot game. Being the number one seed comes with its own set of drawbacks and the underdog narrative has always fired up this squad.
Not only that, but Jay Pandolfo and Joe Pereira's personal experiences in the Frozen Four and championship games will likely bring some seasoned advice to a squad that might be nervous going up against the other blue bloods of college hockey. (I say 'might be nervous' lightly… from conversations with players to post-win locker room videos, this team looks confident). As for the advice Pandolfo plans to give his players:
"Number one is I think they should be proud of the accomplishment and they should enjoy it… the margin for error in each game is slim. You have to make sure you're dialed in and you're ready to play the right way and you have to limit your mistakes. The biggest thing is you really can't beat yourself. That's the most important thing."
2. Top line talent vs four-line depth
Experience is just one storyline of this tournament. We can't preview the Gophers without talking about their absolutely-loaded NCAA-leading top line. Matthew Knies, Logan Cooley and Jimmy Snuggerud have combined for 138 points in 38 games this season, finishing with a plus/minus of +99 on the ice.
"I think the big thing for us is make sure you manage the puck. Know who you're out there against, try to take away time and space.They're highly talented… but the Minnesota line, I think, is arguably the best line in the country," Pandolfo said of quieting the Gophers. "When it's time to put it in deep, make them come 200 feet. It's a lot harder like that, instead of turning pucks over in the neutral zone and letting them transition. That's when it gets difficult against talented players."
The good news? Western Michigan's "assassin line" of Ryan McAllister, Jason Polin and Max Sasson also had a combined point total of 138 that the Terriers were able to hold off. Their plus, minus was +67 though, indicating that the Gophers' top line talent lifts the entire group up… a rising tide lifts all boats.
My guess is Pandolfo leads with the fourth line of Jamie Armstrong, Sam Stevens and Devin Kaplan. The gritty and defense-minded fourth-liners did an incredible job shutting down the assassins of WMU, but they're also players who make their presence known on the scoresheet. Devin Kaplan deserves a ton of credit for the Hockey East championship with his individual effort game-tying goal against Merrimack. 
But the Gophers aren't just relying on those three. Senior forwards Brodzinski and Jaxon Nelson, along with upperclassmen defenders Jackson LaCombe, Mike Koster and Brock Faber have all contributed to Minnesota's success this season. Becoming the number one team in the country isn't the effort of just one guy, or even of three.
I'd still argue however that the Terriers have the deepest team in the tournament. Pandolfo has talked about the "next man up mentality" all year long, and we've seen it time and time again. Ethan Phillips during the regionals, the Hutson brothers in the Hockey East tournament, Nick Zabaneh, Luke Tuch and Dylan Peterson in each Vermont game, all on top of the consistently impressive play of guys like Wilmer Skoog, Matt Brown, and Dom Fensore. We won't have any injury updates until (hopefully) tomorrow afternoon, but a ten day break should do wonders for someone like Fensore who is looking to get back to 100%.
"Well, the depth, it's no question that it's been a strength of ours over the course of the season," Pandolfo said. "We can roll four lines that can all contribute. We can roll D that can all contribute. So that's been the strength of our team."
3. Playoff goalies
You can win a hockey game with a loaded offense and solid defenders, but you can only win a national championship with those two things and a rock-solid goaltender to back you up. In a tournament of blue-blooded offense, only Quinnipiac runs away with the leading goalie, but Drew Commesso probably comes in second.
I feel like the last nine games have introduced us to the Commesso we were promised three years ago. Commesso's 2.41 goals against average and .914 save percentage aren't great statistics from a birds-eye view, but those include nine-goal losses to BC and Michigan, in addition to some other flukey games like those against Maine and Providence. 
Since the four-game Beanpot skid, Commesso has calmed down and got himself together en route to a majorly impressive second half of the semester. The added confidence of some hardware from the regular season title, the HE championship, and the most outstanding player of the Manchester regional have all manifested themselves into statistics, with Commesso's GAA falling to 1.67 and sv% increasing to .928 since the Merrimack sweep.
Minnesota's starter, senior Justen Close, will be back between the pipes in the Frozen Four this Thursday. His GAA is at 1.99 and his sv% is .928, in the much more shot-oriented B10 conference. However if I'm going to cherry pick for Commesso, I have to cherry pick for Close– in his last six starts, his GAA is 1.67 and sv% is .934.
The last thing I'll throw in there is Commesso hasn't lost since mid-February, while the Gophers fell short to the Wolverines in the B10 championship, and Messo's experience on the world's biggest stage in the Olympics might set him apart, even if he's new to the Frozen Four.
Two offensive-minded teams with top level blueliners and goaltenders playing their best hockey? Should be a good one. 
4. Hobey Freshmen
I'll keep this relatively short because again, a deep dive on Lane Hutson's accomplishments feels like a great post-tournament feature to write and because this preview is already three pages long. It is really hard to win both the Hobey and the national title in the same year. Matt Gilroy can do it, other people have done it, but it's hard to win both.
To put it simply, Cale Makar won the award with 49 points in 41 games (1.195 ppg) as a sophomore. Lane has 48 points in 38 games for 1.263 ppg as a freshman. 
Adam Fantilli is a no-brainer, alongside Logan Cooley. Matthew Knies is, in my opinion, the odd man out and will just split votes for the Gophers. Matt Kennedy, the Gopher beat writer for the Minnesota Daily, made a fair argument in regards to what Knies does on the ice that goes unnoticed, and that you really just have to watch him play. We'll wait to see it in person on Thursday.
When we had Cade Webber on the podcast, he put it well: "All I know is they made a mistake. Piss off Lane, he'll be ready to go."
As a college hockey fan, what a weekend of games ahead. If the Terrier storyline is line chart depth and a pissed off allstar, the Gopher storyline is experience and a bitter taste of only making it so far last year. The teams will square off on Thursday at 5:00pm with a chance to compete for a national championship on the line. The BHB will have full on-the-ground coverage on Twitter @BOShockeyblog and Instagram @Boston.Hockey.Blog, so be sure to follow along.