By Mark Fraenkel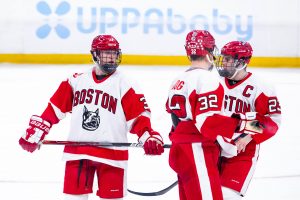 After suffering an emotional loss to the No. 20 Northeastern Huskies (14-10-4, 11-5-3 Hockey East) in the first round of the Beanpot, the No. 3 Boston University men's hockey team (20-7-10, 14-4-0 HE) returns to action in the consolation round with a game against their archrival the Boston College Eagles (9-12-6, 5-8-5 HE).
For the first time in the tournament's 70 iterations, the Terriers and Eagles will compete against each other in the consolation round. Puck drop is set for 4:30pm at TD Garden. 
In Beanpot games, BU's record against BC is 29-16, including winning the last two matchups in 2020 and 2017. In the Battle of Comm Ave overall, the Terriers lead the series 139-130-21.
"Of course, there's a lot of pride in the Beanpot," BU head coach Jay Pandolfo said in his midweek media availability. "Of course you wanted to defend the title. It's obviously a great experience for a team to win that tournament. But at the end of the day our season is not over, so that's the important thing and we have to make sure we learn from that game." 
On Monday night, Northeastern's senior forward Aidan McDonough found the back of the net at 14:00 in the first period to give the Huskies a 1-0 lead. Early in the second period, graduate student forward Jakov Novak scored to give Northeastern a 2-0 lead. 
Senior forward Matt Brown would score late in the third, but it was too little too late as the Huskies advanced to the championship round. 
BC fell in overtime to the No. 10 Harvard Crimson (17-6-1, 14-4-0 ECAC) in the early game last Monday. Down 3-2 late in the third period, junior forward Nikita Nesterenko and freshman forward Cutter Gauthier both scored to force overtime. 
But Harvard's freshman forward Marek Hejduk scored with 1.5 seconds remaining in overtime to send the Crimson to the championship.
Unlike the Terriers, Greg Brown's team played during the seven day break between Beanpot games. Hosting the University of Maine Black Bears (13-13-2, 7-9-1 HE) on Friday night at Conte Forum, junior forward Trevor Kuntar scored the lone BC goal in a loss to an improving Maine squad.
"They present some challenges," Pandolfo said of Boston College. "They're a good transition team. You know, really good speed, they have some game changers in their lineup. So there's some things that we have to make sure we're aware of. But I do think the most important thing is getting our game back." 
During the media availability, Pandolfo provided updates about senior forwards Jamie Armstrong and Ethan Philips. 
"I would say Armstrong will still be out" Pandolfo said. "He still has not skated. Phillips practiced yesterday and today looks pretty good. He's probably 50-50 for Monday." 
While it's a consolation contest fighting for third place, Monday is still a must-win for BU. As Pandolfo said, they've got to get back to their game of speed, skill and grit before the end of season push. 
After Monday's matchup, the Terriers will return to Hockey East play with a home-and-home series with the No. 19 Merrimack College Warriors (16-12-1, 11-8-0 HE). 
The Boston Hockey Blog will have full game coverage from TD Garden so be sure to follow along on Twitter @BOShockeyblog and Instagram @boston.hockey.blog. 
The Boston Hockey Blog also started a weekly newsletter. You can sign up here.