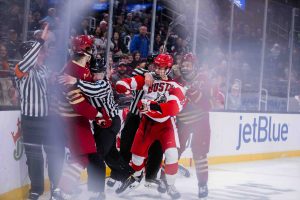 Last night just wasn't good. 
The Terriers looked like a shell of themselves against a desperate Boston College team who was able to find the emotion to make a consolation game mean something. Coming into the Beanpot's second Monday, the Eagles had dropped their last eight games –– they simply wanted, and needed, the win more. 
"At the end of the day, these guys are Division I college hockey players," head coach Jay Pandolfo said. "Playing against your rival, you should have enough emotion to get up for a game." 
BU has been a resilient team and had yet to lose two consecutive contests this season. Bounce-back wins became a character trait of the group early on which makes yesterday's performance that much more dumbfounding. 
Pandolfo was as confused as we all were in the post-game. 
"I felt like we gave up that first goal and for whatever reason it seemed like our bench was deflated, I don't know why," he said. "For whatever reason that's two games in a row that we just didn't have our game. There's just a lot of guys I felt like weren't there like they typically are." 
With senior forward Ethan Phillips back for the first time since Dec. 11, Pandolfo shuffled his lineup, but no spark was ignited. Phillips –– who was arguably BU's best player last night –– slotted into the first line with Wilmer Skoog and Devin Kaplan. The kid line was broken up as Jeremy Wilmer moved up to skate with Jay O'Brien and Matt Brown, but it didn't matter. 
The chemistry and skill that bolstered BU to the best offense in the country was completely suffocated by not only an aggressive BC attack, but an utter lack of confidence in all three zones from the Terriers. 
The usual gritty, hard-on-pucks mentality was nowhere to be found on BU's end. It's hard to say this team didn't care –– because they've proven their passion for the program –– but they slept-walked through the 60 minutes. No one's waking up with butterflies about a 4:30pm consolation game, but the lack of energy was unacceptable.  
"Sometimes it seems like we want an easy game, and that's what it felt like to me tonight," Pandolfo said. "Similar to last game against Northeastern, we didn't want to put pucks behind them and go to work." 
This passive play was so uncharacteristic for a group that has skated with so much pride for the scarlet and white jersey this season. It's a slump I know they'll get out of, but it's unfortunate the drop-off came on the Beanpot stage. 
With six regular-season competitions remaining on the schedule, it's time to see what this team is really made of. Friday's road matchup against Merrimack now becomes one of the biggest of the year as the Terriers try to avoid a three game skid. 
BU has the winning recipe, it's just a matter of getting back to it. I'm not sounding any emergency alarms for this squad. 
One year ago today the Terriers hoisted the Beanpot on TD Garden ice. Now, we learn from an embarrassing 2023 tournament and move on. The sting lingers, but it's time for BU to refocus. Hockey East play returns and the hunt for the next trophy begins.