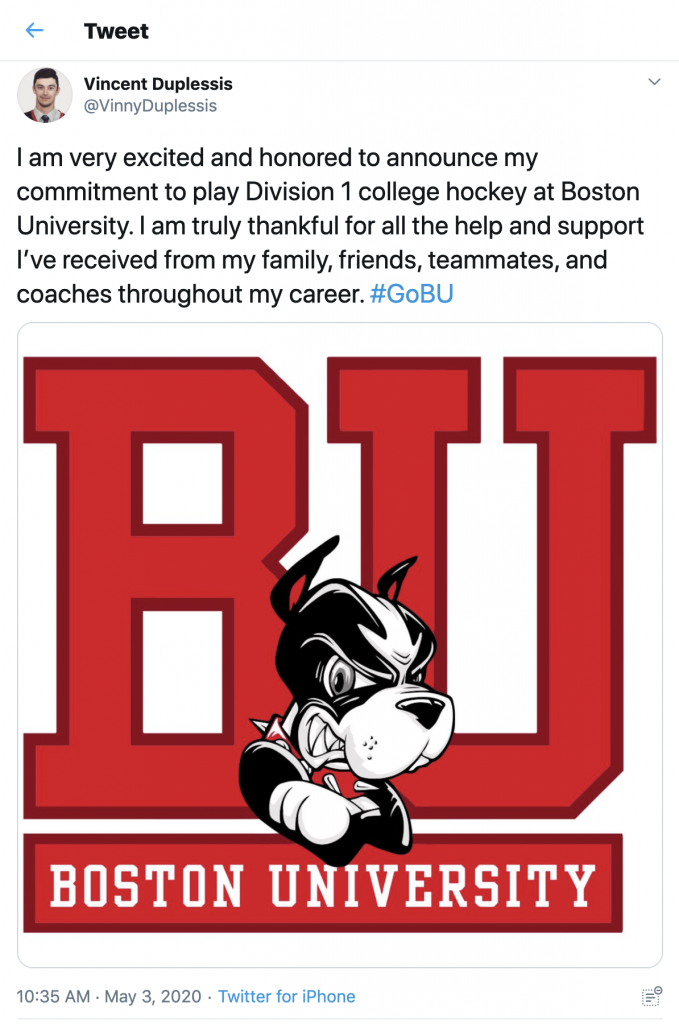 Incoming goaltender Vincent Duplessis officially committed to play for the Terriers on May 3, less than two weeks ago, but his ties to Boston University go back much further.
Four years ago, Duplessis trekked to Boston from his native Quebec City to participate in the Chowder Cup, a showcase for some of the region's top amateur hockey players. With his team, Duplessis was able to tour the BU hockey facilities, and after his first taste of college hockey, there was no going back.
"BU is kind of like where the whole college hockey dream started, so being able to say that I'm gonna play for them four years later is crazy," Duplessis said.
Since that 2016 Chowder Cup, Duplessis went to Bishop's College Prep before spending two seasons in the British Columbia Hockey League (BCHL) with the Merritt Centennials.
He played the 2019-20 season with the Whitecourt Wolverines in the Alberta Junior Hockey League (AJHL), where in 40 games he posted a 21-10-6 record, a 2.72 goals against average and a .912 save percentage. Of netminders who played at least 15 games, Duplessis was eighth in GAA and fifth in save percentage.
"Personally, I think it was one of my best seasons ever. It was one of those seasons where you're just super aware of how you're playing," the 21-year-old netminder said. "Up to the playoffs, I was playing the best hockey of my life, but obviously it really sucks that it all got canceled."
The Wolverines were rolling through the AJHL playoffs when the COVID-19 pandemic forced the cancelation of the remainder of the season. The team had just defeated the Fort McMurray Oil Barons 4-2 in a best-of-seven first round series, and were poised to square off against the Spruce Grove Saints in the next round.
"As a team, it was a little bit tough at the beginning of the season. We were kind of figuring it out on the defensive side, but then when we kind of figured out where everybody was supposed to be, it only went up from there," Duplessis said.
Whenever he arrives at Commonwealth Avenue, Duplessis will not be the only former AJHL goaltender repping scarlet and white. Ashton Abel joined the team mid-season last year from the Okotoks Oilers, and Duplessis looks forward to working alongside a former opponent.
"[Abel's] really good with his hands, and obviously he's kind of a similar size as I am, so he's really good at managing his depth. I'm really excited to join a fellow AJHLer on the BU team, so that's gonna be pretty cool," Duplessis said.
In addition to playing with Abel, Duplessis looks forward to meeting the other netminders and the rest of the players when team activities resume.
Just like everyone else, Duplessis has been finding ways to keep himself busy and stay in shape during the pandemic. He's unable to play his second favorite sport, golf, with all the courses closed in Quebec City, so instead he has been video chatting with friends, playing MLB: The Show on the PlayStation 4 and working on his game.
Without access to a gym, Duplessis tries to at least stretch and work on mobility every day. For more intense workouts, he's had to be a little bit more resourceful.
"For some weights, I have some ski boots with some beer bottles in there… I got golf bags for squats and stuff like that," Duplessis said. "I actually bought synthetic ice I put somewhere in my basement, and so that's huge for the skating part of the game."
When it comes to role models at the NHL level, two names come to mind for Duplessis. As a Quebec native, Carey Price of the Montreal Canadiens is an obvious choice for him. For a more direct style comparison, he likes to watch Nashville's Juuse Saros.
"I love to watch [Saros]. I love to kind of take little things out of his game and put it in mine because he's 5-10, 5-11, and I'm only six feet, so it's really interesting to watch him and see what he does with his hand placement, what he does with his eyes and with his feet," Duplessis said.
Those skills attracted the BU coaching staff, who first contacted him at the beginning of the 2019-20 season. Recruiting did not truly heat up until the end of the season, but the Wolverines goalie always had BU high on the list. 
For Duplessis, the combination of BU hockey's prestige and the high-level education the university offers made the decision to play at Agganis Arena easy.
"Being from Quebec, there's not a lot of knowledge about college hockey, but when you do mention it in Quebec, you always think about Boston University," he said. "When I had the opportunity to commit here at BU, it was just a no-brainer."
While goaltenders Sam Tucker and Nico Lynch both graduated, Abel and rising junior Vinnie Purpura return, and Drew Commesso, a goalie for the U.S. National Team Development Program, joins Duplessis in the recruiting class to make up a loaded goaltending group.
The coaching staff has expressed to Duplessis that they look forward to seeing what he will bring to the mix. Until he has the opportunity to bring his skills to the table, Duplessis will be staying in shape and looking forward to the challenge.
"With the coaching staff, it was just, 'we want you to compete,' so I can't wait to do just that, and push the others," Duplessis said. "I love Boston and playing there… it's gonna be a good time."