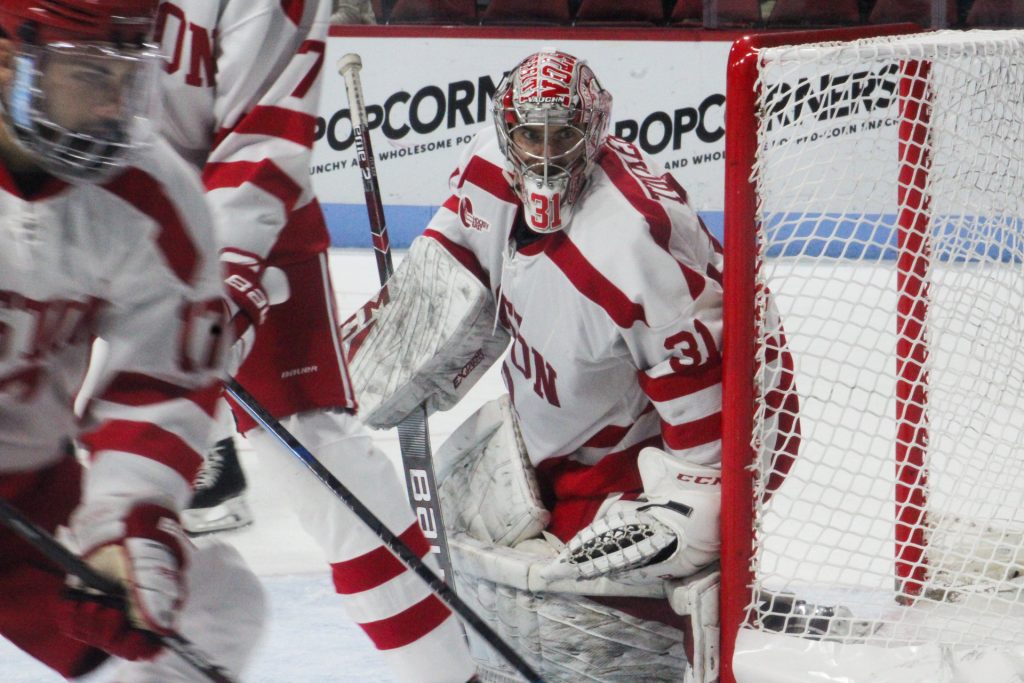 With the holiday break about to begin at the end of the first semester, it feels like a good time to dish out my grades for the Boston University men's hockey team through the first half of the season. I'll grade each positional group, beginning with goaltenders before moving on to defensemen and finishing with forwards. Brady Gardner will have a much more in-depth analysis of each player's performance so far this season. Without further ado, here is my assessment of the Terriers' goaltending situation – all opinions are my own, as always.
After a rocky start to say the least, highlighted, or low-lighted I should say, by the debacle that was the 6-5 loss at Providence, BU's goaltending situation seems to have leveled out. In the aforementioned visit to the Friars, head coach Albie O'Connell pulled graduate transfer Sam Tucker in favor of sophomore Vinnie Purpura; however, when Purpura did not perform up to snuff, O'Connell put Tucker back into the game.
At the time, Purpura replacing Tucker before being usurped by Tucker again seemed to encapsulate the Terriers' goaltending to that point in the season. At least to me, it did not feel like there was a true starter as Tucker had a rather inconsistent start to his year in Boston with ten goals allowed on just 48 shots through his first three games, including seven goals on 30 shots through his first two. Purpura saw more time than I had expected, albeit only two appearances, but didn't do enough to win over the job.
Since the game in Providence, Tucker seems to have taken the job and run with it. The former Yale Bulldog has settled into a groove nicely, giving the Terriers some solid goaltending and providing what feels like at least one highlight-reel save each game. He's playing like a true starting netminder at this level, recovering nicely to post a .913 save percentage and 2.63 goals-against average by the end of the semester.
Away from Tucker, senior Nico Lynch has yet to see any action this season, and Purpura, who has a .860 save percentage and 4.90 GAA, was not particularly impressive in either of his appearances (four goals-against in the 4-3 loss to Northern Michigan and two goals on just 10 shots in the loss at Providence).
Grade: B
All in all, since the up-and-down start of the season and the outlier in Providence, Tucker has given BU good goaltending. We'll see what the second half brings, whether or not that's Tucker keeping up his pace or Purpura seeing more action, but I've really liked what I've seen from Tucker over the last month and a half as he has gone 4-3-2 with a shutout in nine appearances – beginning with the win against Massachusetts – and improving his save percentage from a lowly .891 to the current .913 mark.