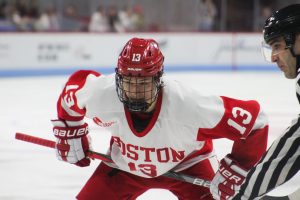 The Boston University men's hockey team upset No. 8/12 Northeastern at Agganis Arena last night by a 6-3 final, making it two straight wins, both against ranked Beanpot opponents, to cap off the first half of the season. Check out Brady Gardner's full recap here. Here are my three takeaways from last night – all opinions are my own.
It may not have been their best game, but the Terriers found a way to win
In my opinion, Tuesday's win over No. 9/12 Harvard was BU's best overall game of the season. Last night's effort may not have been as pretty or thorough, but BU was able to find a way to win. Below-average puck management in the defensive zone led to chances and goals for the Huskies, but Sam Tucker still made a number of key saves. What's more, the offense kept finding ways to answer the potent Northeastern attack as BU showed gobs of resiliency in this one; they wanted it more.
Sam Tucker cards another strong outing
He may have given up three goals, two in quick succession too, but Tucker was great in net once again for the Terriers. In a night where he faced another heap of shots, making 37 saves, Tucker stood tall against a dangerous Northeastern attack. Tucker came up huge for the Terriers during the onslaught as the Huskies tried to mount a comeback, stopping key rebound attempts with some downright crazy sequences in front of his crease.
Sam Tucker goes to the splits to fend off a flurry of Northeastern chances. #BUvsNU (via @CBSAllAccess) pic.twitter.com/3jSmPJNtq2

— Boston Hockey Blog (@BOShockeyblog) December 8, 2019
The new-look lines pay dividends again
Head coach Albie O'Connell shuffled the forward lines ahead of Tuesday's win over Harvard, with a significant shakeup in the top six, which produced the "Avon Old Farms" line of Jamie Armstrong, Trevor Zegras, and Patrick Harper as the top unit. Since the shakeup, the BU attack and forecheck has been much more balanced, with each line producing pressure from top to bottom. The second line of Robert Mastrosimone, Ethan Phillips, and Patrick Curry, as well as the "Avon Old Farms" line have shown terrific chemistry on the ice, and it has paid off in a big way for BU.
Trevor Zegras's extra effort wins the puck back from Collin Murphy, and Patrick Harper whips home the feed for his second goal of the night. #BUvsNU (via @CBSAllAccess) pic.twitter.com/5zslW1CSfI

— Boston Hockey Blog (@BOShockeyblog) December 8, 2019
The Terriers will embark on the holiday break on a two-game win streak once the semester wraps up academically, and will return to action on Dec. 29 for an exhibition matchup with Concordia at Walter Brown Arena at 5:00 pm, which is being tabbed as a "throwback night."