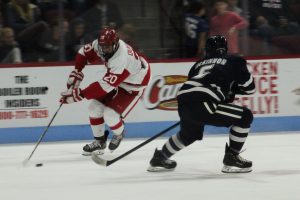 Looking to avoid the weekend sweep at Maine's Alfond Arena, the Boston University men's hockey team salvaged a point against the Black Bears thanks to sophomore forward Matt Quercia's late goal to force a 2-2 tie on Saturday night.
"We just stuck with it," said BU head coach Albie O'Connell after the game.
The series opener on Friday night saw the University of Maine (5-2-1, 2-1-1 Hockey East) jump out to a 2-0 lead en route to a 4-2 victory over BU (2-2-3, 1-1-2 Hockey East), and on Saturday night, the Black Bears struck first once again.
Three minutes into the game, junior defenseman Veli-Matti Tiuraniemi let go a shot from distance. BU graduate goaltender Sam Tucker made the initial stop, but Maine senior forward Tim Doherty was right there to pound in the rebound and put the hosts on the front foot.
After a fruitless power play to end the first period, BU gained another pair of opportunities on the man advantage early in the middle frame. The best chance of either five-on-four situation would come for Doherty on a shorthanded breakaway, but his shot went over the bar.
"Our power play was a little inept at times tonight," said O'Connell, whose Terriers were unable to capitalize on any of their six opportunities with a Black Bear in the box.
The Terriers experienced another scare when freshman forward Trevor Zegras left the ice relatively gingerly during the first of the two second-period power plays. Minutes later, however, the first-year Terrier would return in a big way.
Nearing the game's halfway point, senior forward Patrick Curry sent the puck forward and through a crowd of Black Bears at their defensive blue line. Zegras was there to capitalize, losing his footing but still finding a way to fire in his second goal as a Terrier and level the score.
"We had some push-back in the second that got us to the third [with] a little bit of momentum," O'Connell said.
Over the course of the middle 20 minutes, Maine withstood 14 Terrier shots on goal while attempting just four of their own. Still, when the second period ended, the game remained tied.
"I think they're goalie's really good," said O'Connell about junior goaltender Jeremy Swayman, who made 35 saves on the night.
It didn't take long for the ice to be broken in the third period, as the hosts regained the lead just 1:40 in. With Maine pinning the Terriers deep, freshman defenseman Adrien Bisson found the back of the net with a drive from the corner of the zone to tally his first collegiate goal.
"[That was] not great puck luck there," said O'Connell, who noted that Bisson's shot deflected off a Terrier body on its way in.
Searching for an equalizer, the Terriers poured on 18 shots on goal to Maine's 10 in the final 20 minutes. With two minutes to play and the extra attacker on for Tucker, BU would finally get one past Swayman to draw even once again.
Just seconds after Tucker vacated his net, sophomore forward Matt Quercia punched in a loose puck outside the Maine crease. It was the Massachusetts man's third goal of the young season, with assists credited to Curry and freshman forward Ethan Phillips.
"It's not how you draw it up," said O'Connell with a smile after seeing his Terriers rely on scoring with their goalie pulled just as they had the night before.
With neither side able to muster a late winner in regulation, BU and Maine headed to overtime, where two more power play opportunities between the two teams went unsuccessful.
The game would finish 2-2, splitting the points between the Terriers and Black Bears.
"We'll take the point," O'Connell said.
The second-year head coach was quick to point to Sam Tucker as a major reason why BU was able to earn a point. In his sixth start in scarlet and white, Tucker finished with 23 saves after making 31 the night before.
"He didn't [face] as many shots, but he had some big saves he had to make," said O'Connell of his grad transfer in goal.
BU were as limited in terms of personnel on Saturday night as they have been all season, missing all three assistant captains among other injured absentees. For a team digging deep in the depth chart, Coach O'Connell was happy with what he saw from his men on Saturday night.
We were down a lot of guys," said O'Connell. "We're just happy with the way we played overall."
With a challenging trip to Maine now in the rear-view mirror, BU will look to be at their best when they take on #7/8 Providence College in a home-and-home set next weekend.