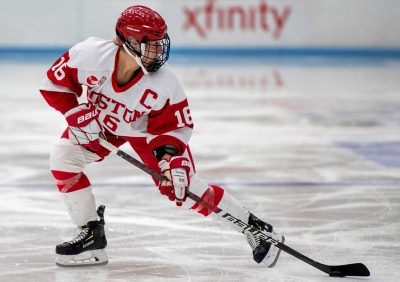 This past weekend, the Boston University women's hockey team faced off against the Pennsylvania State University in back-to-back away games to close out a five-game road trip.
Despite missing standout junior forward Jesse Compher, who still remains sidelined due to injury, BU (5-1-1, 2-1-1 Hockey East) had five different Terriers score in its 5-2 win over Penn State (3-4-3, 0-0-0 CHA) Friday afternoon.
Just 22 seconds into the game, junior forward Kristina Schuler of BU jumped on a rebound to knock home her second goal of the season.
Redshirt senior forward and co-captain Sammy Davis extended the lead for the Terriers to 2-0 at 7:28 into the first period, and while Penn State would answer with a shorthanded goal seven minutes later,, BU senior defender Abby Cook would go on to score the game-winning goal for BU just 1:24 into the third period.
Junior forward Nara Elia and sophomore forward Kaleigh Donnelly also scored for BU while adding an assist each as well. Eight different Terriers registered an assist and 11 different BU skaters notched a point Junior Corinne Schroeder was stellar once again between the pipes for BU, making 22 saves without allowing an even-strength goal in the win.
BU's offensive dominance carried over into Saturday's matinee for the back-end of the weekend set against Penn State.
Freshman Julia Nearis had a career-high two goals while Donnelly recorded her third straight multi-point game in BU's 5-1 victory over the Lions. Sophomore goaltender Kate Stuart made her second appearance in net this season, earning her first win while making 21 saves. The Terriers never trailed in what would become their fourth straight win, and BU is now 5-0-1 when they limit their opponents to two goals or fewer.
Up next, BU will return home this Friday, November 1 when they host No. 3 Northeastern University (5-1-0, 2-1-0 Hockey East) at Walter Brown Arena in a Hockey East matchup.
BU went 1-2-1 last season against the Huskies, and have not won a league contest against Northeastern since February of 2017.
While a late goal from junior forward Nara Elia was not enough for BU in their last regular season game against the Huskies, a 2-1 defeat last October, BU did defeat their crosstown rivals in the Beanpot semifinals. Backed by 31 saves from Schroeder, the Terriers outlasted the favored Huskies in a shootout, which was won by the now-graduated Reagan Rust.
Northeastern is coming off a 1-0 loss against Providence this past Friday; their only loss of the season so far.
As a team, the Huskies are averaging 3.8 goals per game and averaging 38.0 shots per game. They have limited their opponents to 1.2 goals per game and 22.3 shots per game. Northeastern is led offensively by sophomore forward Alina Mueller who has 15 points for the Huskies. She also leads the team with assists (11). Sophomore forward Chloe Aurard leads the Huskies with goals (5). Junior goaltender Aerin Frankel has only allowed three goals and has an AVG of 1.04. Her save percentage is .957, and she is 2-1-0 on the season thus far.
Going into this weekend, BU is averaging 2.9 goals per game and limiting their opponents to 1.6 goals per game.
It will be a big rivalry weekend in Boston women's hockey, and one that will certainly sway the top of the Hockey East standings. The puck will be dropped at 7pm on Friday and 3:30pm on Saturday.