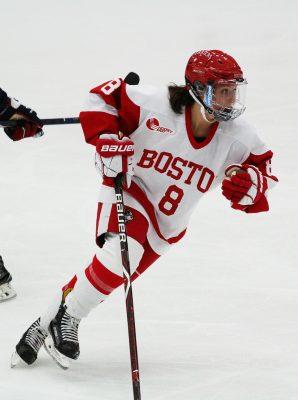 Before anything else, we would like to extend a happy belated birthday to BU head coach Brian Durocher, who celebrated his birthday this past Friday, October 18. Happy belated birthday, Coach!
Now back to the hockey…
BU (3-1-1, 2-1-1 Hockey East) was without star junior forward Jesse Compher again last weekend, dealing with a lingering lower-body injury that has sidelined her for all five games thus far. While her status is day-to-day, Durocher stressed that they are not rushing Compher back into the lineup.
Junior Corinne Schroeder was back between the pipes for the Terriers for both games this weekend. She stopped 64 of 65 shots faced over the weekend to collect her third career shutout in game one and earn Hockey East Defensive Player of the Week honors.
BU's senior forward Deziray De Sousa scored her first goal of the season to lift BU to a 1-0 win over the University of Connecticut (4-2-0, 2-2-0 Hockey East) on Friday. Senior defender Abby Cook fired a shot from the right point, and De Sousa was there to knock in the rebound.
With a birthday win to start the weekend and get off the blocks in Hockey East play, Durocher and his Terriers met the University of Maine (2-3-1, 0-2-0 Hockey East) on Sunday afternoon.
Junior forward Kristina Schuler and sophomore forward Kaleigh Donnelly both opened her 2019-20 accounts early on, but Maine was able to answer quickly to cut the deficit in half, 2-1.
It stayed a one-goal game until sophomore forward Courtney Correia clinched the win with 1:15 remaining in regulation on an empty netter from the blue line, potting her first goal of the season as well.
The BU defense has been clicking as of late. The Terriers went 8-8 on the penalty kill this past weekend, and on the other end, blueliner Cook has tallied a point in four of the Terriers' five games this season.
This upcoming weekend, BU will play a two-game series at Penn State (3-2-3, 0-0-0 CHA) to conclude its stretch of five straight road contests. 
Last season, the Terriers went 0-1-1 against the Lions; their most recent game a 0-1 loss on home ice. Sophomore goaltender Kate Stuart made 33 saves in BU's loss, while the defeat snapped the Terriers' six-game unbeaten streak at the time.
The Lions are coming off a back-to-back series against Providence College, where they went 1-0-1. The doubleheader extended Penn State's unbeaten streak to four games, and junior forward Natalie Heising now has four points (2G, 2A) in her last four games.
Offensively, Penn State is led by senior forward Katie McMillan, who has six points so far this season, and Heising, who leads the Lions with three goals. Junior Chantal Burke looks to get the start in goal for the hosts, having posted a 2.15 goals against average in seven games this season.
The puck is scheduled to drop at 3pm on Friday and 1pm. on Saturday in what should be a good two-game test for the Terriers.