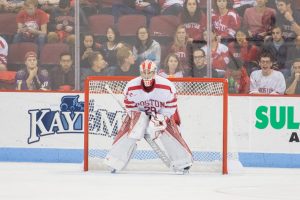 Slated against two schools from The Constitution State, the BU men's hockey team drew plaudits aplenty this past weekend.
It down Sacred Heart, 7-0, on Friday night, only to then blank Quinnipiac, a top-5 team, 3-0, on Saturday night. This two-game stretch marked the first time since the 2012-13 season that BU shutout back-to-back teams, while sophomore forward Jordan Greenway enjoyed a coming out party of sorts.
With all that established, let's break down some greater nuances from this past weekend's tilts:
1.) Top D Pairing Shines: I've written about it plenty before, but I'll say it again: BU can dress six NHL draft picks along the blueline on any given night. That's a mind-boggling amount of talent.
From that group, junior Brandon Hickey and freshman Dante Fabbro have emerged as head coach Quinn's starting duo. Their showings against Sacred Heart and Quinnipiac make it easy to see why.
Hickey and Fabbro – a Calgary Flames and a Nashville Predators prospect, respectively – shut down each opponent's top forwards. On Friday, it was Justin Danforth (96 career points) and Evan Jasper (68 career points) of the Pioneers kept under wraps, while on Saturday it was Tim Clifton (75 career points) and Landon Smith (72 career points) silenced.
Sure, the duo only earned a combined +1 rating across the two games, but they were remarkably efficient.
"They played really well. I thought McAvoy, Somerby, Krys, MacLeod, I thought they all did a great job." – Quinn
2.) JFK does the little things: It's not too often in collegiate athletics that a sophomore gets named a captain, even if it's as an assistant. From the first five games of 2016-17, it's easy to see why Jakob Forsbacka Karlsson earned that honor for the Terriers.
His seven points (two goals, five assists) is second best on the team, but his true importance lies beyond the numbers. It was a common sight against Sacred Heart and Quinnipiac to see Forsbacka Karlsson killing penalties, quarterbacking the power play and making a high hockey-IQ play.
Those elements explain why the Boston Bruins drafted the center in the 2015 NHL Draft's second round – it's as simple as that.
"He's great. He does really well starting in the defensive zone, you can always rely on him to be in the middle of the ice for support. Even going into the offensive zone, he gave me a great pass tonight. All I had to do really was put it on net, so he's made me look good. I definitely like playing with him." – Greenway
3.) Keller proves he's no one-trick pony: Clayton Keller is an offensive powerhouse who set a U.S. NTDP scoring record with 189 points (71 goals and 118 assists). That figuring is startling, and the Terriers will need the 18-year-old center to contribute offensively to achieve the success they dream of in 2016-17.
But Keller illustrated against Quinnipiac that he doesn't need to score to make a tangible impact, and Quinn noticed this in his post-game remarks. The Arizona Coyotes draft pick was immense in killing some of the Bobcats' 12 power plays. He also won 15 of his 26 draws.
"I know he didn't get a point [against Quinnipiac], but I thought Keller was outstanding. He was all over the place. He's such a gritty player for a kid with that type of vision and skill. Those guys don't fall out of trees, and he's a heck of a player. He's a dominant player even when he doesn't score. I know he wants to score and we want to him to score, too, and that will take care of itself." – Quinn
Highlights
BU vs. Sacred Heart:
BU vs. Quinnipiac:
Tweets of the weekend
Everyone actually bought tickets to see first round ref draft pick Kevin Shea. Silly me for wanting to see 5 on 5 hockey

— BayState RoadSports (@bsrs_blog) October 23, 2016
2017 Draft: @TerrierHockey goalie @jake_oettinger posted back2back shutouts this wkend. First to do so since Sean Maguire in March 2013

— Mike Morreale (@mikemorrealeNHL) October 23, 2016
.@Buccigross penalty shot in the first period of BU vs. SHU off the pipe #CawlidgeHawkey pic.twitter.com/R48Lsdl8fq

— Dickchuck (@mbdickchuck) October 22, 2016