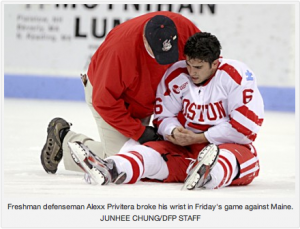 By Tim Healey/DFP Staff
The No. 2 Boston University men's hockey team, the winner of 12 of its last 14 games entering the weekend, has been bitten by a bug – the injury bug.
The Terriers (15-8-1, 12-6-1 Hockey East) lost a pair of defensemen, freshman Alexx Privitera and junior Max Nicastro, to injuries in Friday night's 4-2 loss to No. 20 University of Maine. These two developments had deep impact on Saturday's 3-1 Black Bear (14-8-3, 11-7-2 Hockey East) win – and potentially the rest of the regular season.
The big blow – and BU's first severe in-season injury of the year – was Privitera's broken wrist. It came in the first period of Friday's game when Black Bear captain Will O'Neill laid Privitera out in the slot in BU's defensive end. The freshman's right wrist bent backwards on the play, and tests later confirmed it was broken.
BU coach Jack Parker said Saturday Privitera is expected to return in four weeks.
"Maybe," Parker said, knocking on a plastic table. "Hopefully."
For more, visit dailyfreepress.com.